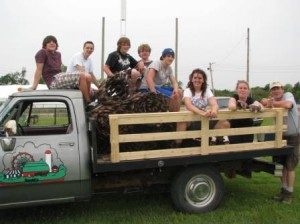 The Brooklin Spring Fair has multiple volunteer committees working year-round to organize the various events and activities that occur during the 4-day Fair. We are very fortunate to have a highly dedicated team of volunteers contributing to our organization.
If you are available between Mon. May 27  – Mon. June 3, 2019 or year round please do not hesitate to email or call Kristin Williamson 905-999-8775
If you have any questions about how you can get involved please e-mail volunteers@brooklinspringfair.comand a representative from the Fair will contact you with additional information.
The following committees are looking for help in 2019! Check back often for more updates.
Homecraft Committee: Volunteers to set up tables and display cages on Wednesday, on Thursday assisting the judges assigned to each category and throughout the four day weekend.
Grounds: Student volunteer positions available prior to the opening of the fair with assisting the Ground Committee with the set up of the fairgrounds, this includes but not limited to: setting up snow fence, picnic tables, arena displays and stage as well as posting signage throughout the fairgrounds.  During the 4 day weekend helping with keeping the grounds clean and changing the track area for each event.
Parade: 20 volunteers are needed prior to the start of the parade on Saturday to walk the parade and others will be positioned throughout the parade route.
Arena: Volunteers needed to assist with table and chair set up/tear down, set changes during entertainment, and stage decorating.
Please submit your contact information by filling out this form: