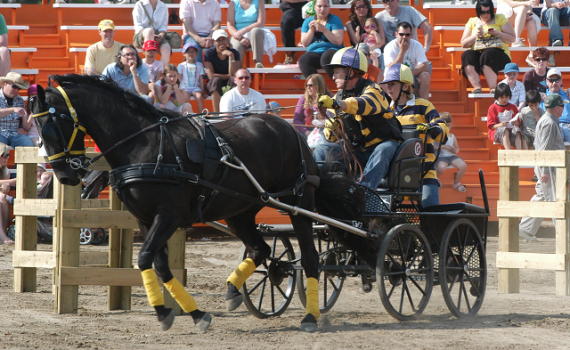 SATURDAY JUNE 6, 2020 at 12:30 pm
Committee Chairperson: Marshall Davidson
The Royal Winter Fair used to offer four in hand driving at racing speed around obstacles in the main ring. It was only open to full size horses driving marathon carriages. If you like speed and horses we will have you hooked!
The Brooklin Spring Fair is bringing back by popular demand the Carriage Racing Derby as a demonstration sport.
A driving derby is a carriage driving competition of speed and accuracy where drivers compete over a set course that is a combination of marathon and cone obstacles. Each driver called the whip with his/her navigator on the back of the carriage will be timed through a numbered course going in the correct direction in numerical order to the finish line while their favorite up beat music plays. We will have 6 competitors doing our course, showing horses of different breeds and sizes. You will notice that the single miniatures do not show with a navigator. The fastest time wins including any penalties.
This is fast paced and you will be sure to have a good time. We encourage the audience to be loud and cheer on their favorite carriage. The show starts at 12:30pm on the track in front of the grand stands on June 6. Hope to see you there!
For more information and previous years photos of carriage racing derbies, check out Marshall Davidson's website at www.fotoworks.ca
***
For more information contact: secretary@brooklinspringfair.com
Subject Line: Carriage Racing Derby or Marshall Davidson