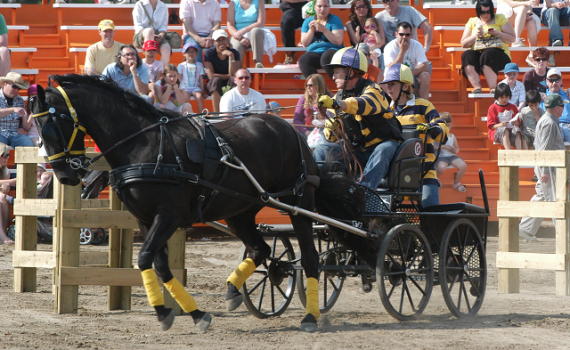 <!–- AssistExpo -–>
CARRIAGE RACING DERBY
SATURDAY June 3, 2023 at 12:30 pm
Committee Chairperson: Marshall Davidson
If you've been to the Royal Winter Fair and watched the four in hands race around the ring at top speed and loved every second of it, then this is the show for you!
The Brooklin Spring Fair is bringing back the Racing Derby by popular demand. Drivers race around a set course as fast as they can, around obstacles and the audience is encouraged to make as much noise as possible! It's a fun and exciting show to watch, guaranteed to keep you on the edge of your seat.
Generally a Combined Driving event is held over three days, much like Eventing which it is based on, the dressage is held on the first day, marathon on the second and cones on the third day. A racing der- by is a condensed version of this, putting the cones and marathon together leaving it with an exciting and spectator friendly event. This year, there will be six drivers in total, all of them trying to have the fastest time as well as having a clean round without incurring any time penalties. Precious seconds are added on each time a driver knocks a ball off from a set of cones or possible elimination if they go through a gate the wrong way or out of order without correcting it. The navigator helps by shifting the weight of the carriage to avoid hitting obstacles as well as keeping the driver on course. All of this is timed and carefully watched by a qualified judge. The fastest time wins.
It's fast paced, set to upbeat music, and you'll be sure to have a good time. If you've never seen this group before, come on out and cheer them on! The show starts at 12:30 am on the track in front of the grand stands on Sat. June 3. Hope to see you there

For more information contact: secretary@brooklinspringfair.com
Subject Line: Carriage Racing Derby or Marshall Davidson
Classes: