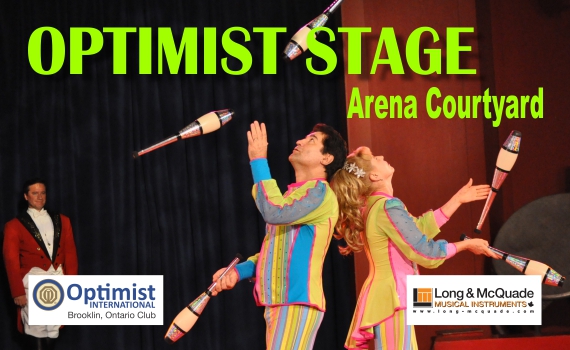 Daring Fire Jugglers, Award Winning Circus Acts, Wacky Comedians …and much more.  Shows every hour on the hour – Saturday & Sunday afternoons.
Join us every night at 7:30 and make lots of noise for "Durham's Best".   Bring your smartphone to help select the winners of Durham's top talent competition.
2018 SCHEDULE
FRIDAY
Durham's Best – Bands @ 7:30 PM
Durham Region's top young band finalists compete.
SATURDAY
Fire Guy @ 1 PM, 3 PM & 5 PM
High energy fire juggling, fire eating, skateboarding and comedy act.
Aristov Family Circus @ 2 PM & 4 PM
An international award winning family circus performing Acro Balancing Act, Rola Bola, and Spinning Cube.
Durham's Best – Singers @ 7:30 PM
Durham Region's top young singer finalists compete; live with "The Professors of Funk Rhythm Section".
SUNDAY
Dirty Dishes @ Noon, 2 PM & 4 PM
A sharp-witted female trio with a 1950's Nashville sound and killer charm.  A fun blend of music and comedy.
Tex Rexman Comedy Cowboy @ 11AM, 1 PM, & 3 PM
A daring cowboy show with fire, knife juggling, whips and lasso.
 **Great news!  The finalists for the Durham's Best Youth Talent Competition will be announced on May 26. Please be advised, if your musician has not been called for a live audition directly from the Durham's Best committee, your musician/singer is not moving forward and will not perform at the Brooklin Spring Fair this year. **