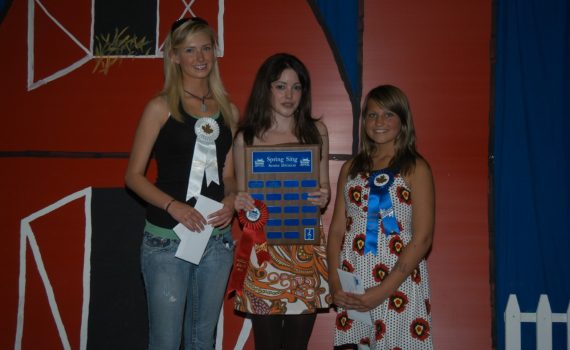 For the 2021 Virtual Spring Sing Rules and Registration information please visit the 2021 Events and Schedules Page of our website or click on the image below.

<!–- AssistExpo -–>
SPRING SING - YOUTH TALENT SHOW
SATURDAY June 6, 2020 - 3:30 pm (check-in 3:00 pm)
Committee Chairpersons: TBA
Sponsored by:
No entry fee, Pre-registration is required! Closes May 20th! Spaces limited!
RULES:
1. Each competitor will sing one song, solo, on stage, in front of three judges. All songs must be expletive free (i.e. radio version).
2. Maximum of four minutes per participant.
3. Registration is first come, first serve. All participants will be confirmed by phone or email.
4. No song changes after May 20, 2019.
5. Come prepared with background music on a CD, cued up. No lyrics on accompaniment from original performer. Solo accompaniment allowed - guitar only. (**Please note: our cur- rent sound system does not support iPods, MP3 players, or MP3 CD - your music MUST be CD - no other forms of media accepted.)
6. CD's must be checked before performances for scratches, skips, dust, etc. Only 2 restarts will be allowed per performer - no exceptions.
7. Arrive 15 minutes before your divisions assigned performance time. We will confirm times with participants on day of performance.
8. Judges' decision is final.
9. Judging will be based on singing quality, performance and originality.
10. Placing other than Top 3 will not be disclosed.
11. Cash prizes for 1st, 2nd & 3rd places. Ribbons for all others.
12. The Brooklin Spring Fair will not tolerate disrespectful behavior by performers or their entourage. This will result in being asked to leave and a risk of disqualification.
NOTE: Contestants under the age of 9 wishing to participate in the competition will be considered for entry on a case by case basis, please contact the Chairperson directly.
Prizes: 1st: $75, 2nd: $50, 3rd: $25
Classes:
1.

Junior Division

Participants must be between 9-12 yrs. of age on date of competition

2.

Senior Division

Participants must be between 13-17 yrs. of age on date of competition
Enter Here